As I did last year, I will again be breaking down the Yankees position by position. Last year I started with the catching depth the Yankees had at that point. This year I will begin my analysis by examining the starting rotation. These analyses should lead me into March where I will then analyze the rest of the American League East, heading into the regular season marathon.
Most experts will say the starting staff is actually a plus for the Yankees. At the top of the rotation you have lefty CC Sabathia who will always give you the length and stability you need as the head of your pitching rotation. In 2012, Sabathia had two separate stints on the disabled list, followed by off-season elbow surgery to remove excess tissue. That operation should not get in the way of Sabathia's 2013 campaign, and if anything Sabathia should feel re-energized after missing a few starts in 2012 and undergoing off-season surgery which gave him additional resting time. However, CC's fingers may have issues going into the 2013 season after excessive tweeting in a failed effort to grab MLB 13 The Show's cover picture. Sabathia made it close, coming in at second place thanks to all of the tweets of support he received. Sabathia made it clear that he would be ready to begin the new season on time. With all the time off recently, expect a CC Sabathia who is ready to compete at a higher than usual level given all of the energy and adrenaline he obtained after a long winter.
Behind Sabathia, the Yankees were able to obtain right handed pitcher Hiroki Kuroda for a second season. Kuroda had more enticing offers from teams like the Dodgers and Angels but the pitcher wanted to make the Yankees his home for a second year after doing well in the organization as the number two starter in 2012. After coming over from the NL West many thought that Kuroda would not perform as well as the Yankees may have hoped. What the Yankees got from Kuroda though, was even more than they bargained for. In his first year in pinstripes, Kuroda won 16 games for the Bombers in 33 starts while pitching a career high 219.2 innings. He posted a very respectable ERA of 3.32 in the AL East and pitched three complete games, two of which were shutouts. Kuroda made two postseason starts where he went deep into the game both times but didn't receive a victory either time. Kuroda obtained a 5.2 WAR rating, which for pitchers is All-Star quality. WAR, wins above replacement, measures a player's ability to win games for his team. The number is gathered by comparing a player's statistics to a league average player at the same position. So in that category, Kuroda was dominant.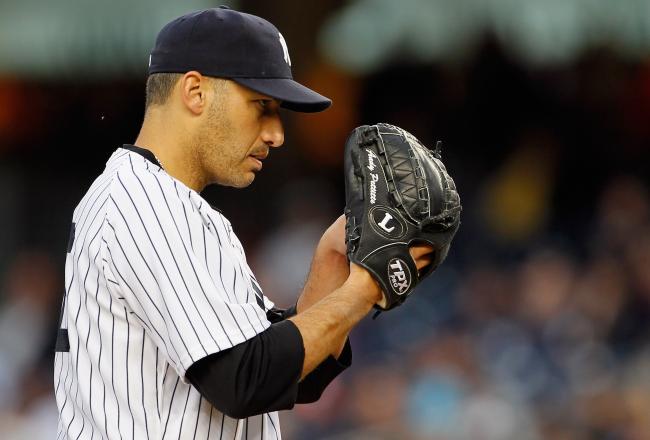 Andy Pettitte is a number three starter that many rotations wished they had. Even at 40 years old, Pettitte gives the Yankees a chance to win every five days. When he takes the mound in a big game you have confidence in his ability to bring home a victory. After missing most of last season due to a broken leg caused by a line drive, Pettitte returned in September and started two postseason games for the Yankees. Just like Kuroda, Pettitte did not get a win due to the Yankees inability to hit last year in the playoffs. Expect a crafty Pettitte this year, who without injuries, could have a brilliant year at his advanced age.
In the back of the rotation, the Yankees have some options. Phil Hughes is the likely candidate to make the number four starter role for the Yankees in his walk year. Hughes is erratic, but there are games where he is dominant. With this year being Hughes' chance for a big payday, expect the righty to pitch well for a long term contract.
The real debate comes into full force when discussing the Yankees number five starter. Ivan Nova filled that role last season, but he was highly inconsistent. His ERA ballooned by almost two runs between 2011 and 2012. He allowed a ton of extra base hits. His sinker just wouldn't sink. David Phelps provided the Yankees with a reliable arm out of the bullpen and as a spot starter down the stretch after Pettitte's injury and Nova's ineffectiveness. There will be an open competition between the two youngsters to battle out the Yankees number five starter. Phelps has a promising future, but Nova is a proven commodity. I give a slight edge to Nova based on familiarity, but that could change based on Spring Training results.
Michael Pineda is waiting in the wings after undergoing surgery on his shoulder. Shoulder injuries are very tricky, but Brian Cashman has stated that a probable return for Pineda would be sometime in June or July. Things should get interesting if everyone is healthy and effective, causing an overcrowding effect for Pineda in the rotation.
*I will post win total predictions in March before the regular season begins.*